maz, 37 - Johannesburg
Gauteng, South Africa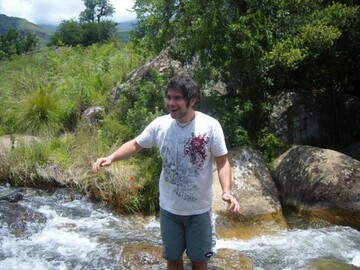 About Me:
Fun and caring personality (dont judge me on my spelling...lol)
I love the outdoors,hiking, cycling(preferably not trying to kill ones self on a downhill) at the same time can sit in (bloody winter nights....) and watch a movie with popcorn or a glass of red with lindt chocs on the side :p
Great with animals thou slightly more judgemental of people, if you cannt care for other people...i couldnt care less about you.
enjoy reading (even with someone) thou once i get started....its a long 4am night till its finished...work next day can be loooong haha and i dont mind putting thought to paper (its where the spelling comes in)
Old school on most aspects of life, and cannt say i ever got into the clubbing scene.
I can being random on occasion (ever tried a kiss under water? ever get a chance,trust me, try it) and i enjoy cooking, i always seem to make enough food to feed a small army but hey....people need something for work lunches hey! that said...was hing...nev er been a fan of...that said, who is?!

I'm a straight forward kind of person and not big into playing games with people... as such i can come across as blunt or pushy, not to say that i wont admit if or when i'm wrong.

I believe in what one can do,i dont believe in limits as such,i believe my utmost that one can and should break them, rather then try set them. Most of all,one should be true to themselves.
Looking For:
A woman (24 - 30)
Hmmm
what does one look for, easy going as always, some that likes to read or has a random urge to just stop and relax on a beautifull sunny day(a dreamer if you were,but with sense to know that we dont live in dreams, we make them)
someone that can laugh at themselves,someone that will trust me as much as i trust them.
Not a party animal, and i dont judge people by there past, but rather by who they can be at there best.

Thats a perfect world,and thou that will never happen off the bat, someone that can realize that all of that is possible if worked for.
Info:
Relationship Status:
Single
Children:
I don't have
Home Language:
English
Other Language(s):
Afrikaans, Other
Appearance:
Ethnicity:
White/Caucasian
Height:
170cm (5' 6.9")
Body Type:
Average
Hair Colour:
Brown
Eye Colour:
Brown
Work & Profession:
Education:
College/University
Profession:
owner
Income:
Average
Life Style:
Eating Habits:
I eat most things
Smoking:
I'm a Non-Smoker
Drinking:
I drink socially