peanut, 56 - Roodepoort
Gauteng, South Africa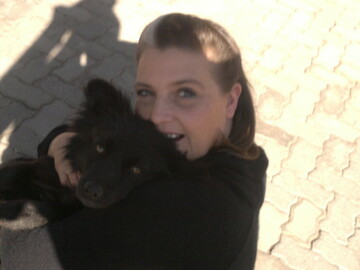 About Me:
I'm witty and friendly. I'm nuts about my huskies and do dry-land sledding with them in the winter months. I enjoy having a glass of wine and side-splitting laughter with my friends or just as equally being on my own, writing short stories or reading a good book and of course walking my furies at the various parks around Gauteng. I'm very independent and can handle most DIY challenges around my house. Builders Warehouse has become my favourite shop. Cable ties and my trusty (persuader) The Hammer are my favourite "go to" tools in any emergency. My car is held together mostly by cable ties, prayer and cement like glue. I can afford to buy another car but have become very attached to my Camry for various reasons for which you will have to pry from me over a glass of wine but for the most part it suits my three huskies comfortably, with a passenger, if one arises.

What I'm not: Whimsical or clueless, desperate nor clingy.
Looking For:
A guy (46 - 52)
This one is difficult for me, so with glass of wine at side to loosen up the neurons in my brain... here goes.
I crumble for strong personalities. A man who has a really good sense of humour, ambition and strong personal values. Family orientated and oh please, be a good cook because I love to cook, so lots of fun to be had in the kitchen. A man who can be gentle with my battered and bruised soul and ego. I'm going to say it.. he must be white and self sustainable. I'm no one's pension plan. A man who can handle the fact that I get up at 3am on frosty Sunday winter mornings to go sledding with my huskies. No, you don't have to join me in this bizarre activity, it's my thing! I'm also club secretary, so there's a lot on my plate for most of the year. Be supportive and you will have my full attention. No "chancers" or "players" please. My takkies are on 24/7, so the first sign of trouble I run. No fights or silly mud flinging, I just run, find a safe place and shut-down. I was married for 11 horrible years and have been single for 13 wonderful ones. :-) I'm not done being happy but would like to walk the rest of my journey with someone special.
Info:
Relationship Status:
Divorced
Children:
I have (not living with me)
No of children:
2
Like to have children:
No
Home Language:
English
Other Language(s):
Afrikaans
Appearance:
Ethnicity:
White/Caucasian
Height:
153cm (5' 0.2")
Body Type:
Slim
Hair Colour:
Brown
Eye Colour:
Green
Work & Profession:
Education:
College/University
Profession:
Executive Personal Assistant
Life Style:
Eating Habits:
I eat most things
Smoking:
I Smoke
Drinking:
I drink socially