Umasue, 70 - Cape Town
Western Cape, South Africa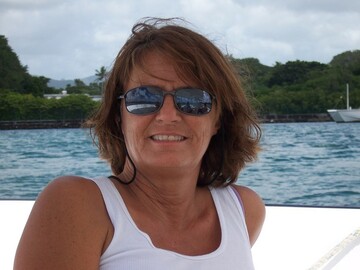 About Me:
I am an easy going person, spiritual but not religious, the sea is my church. 95% vegetarian but can't resist bacon and a good barbecue from time to time:) not judgemental, at times I'm a chain smoker at times I quit. Was very athletic but letting myself go a bit as I got tired of doing activities on my own. I've been single for 15 years raising my two daughters and didn't give much thought to a new relationship. Now that they are grown, I'd like to find someone to be my huckleberry friend. I'm actually living in Mauritus now so unless you travel regularly here, our relationship would probably be limited to chats. I owned my own beachwear company for over 30 years...that's gone now ( long sad story) and I'm starting out again looking for a new direction in life. Normally a very positive upbeat lady...I'm on a roller coaster at the moment and feeling quite lonely and disconnected to my old life so although there is a beautiful, vibrant, fun woman lurking within...it might take a bit of tender loving care to make her show her face again. I love to laugh and looking for someone to help me find my " joie de vivre" again.
Frankness, as you may realize is my strongest trait...I'm over trying to impress anyone just want to be who I am and find someone who likes me just fine.
Looking For:
A guy (59 - 66)
I would like to meet someone secure in who he is, with a good sense of humor who shares the same "woodstock" free thinking spiritual philosophy as me. Kind, compassionate and caring who loves the sea, financially secure, eternally young in mind, body and soul. Looking for friendship first and foremost and then see what/if anything develops.
Info:
Relationship Status:
Divorced
Children:
I have (not living with me)
No of children:
2
Like to have children:
No
Home Language:
English
Other Language(s):
French, Other
Appearance:
Ethnicity:
White/Caucasian
Height:
176cm (5' 9.3")
Body Type:
Athletic
Hair Colour:
Dyed
Eye Colour:
Green
Work & Profession:
Education:
School Only
Profession:
Retired but looking for a new business adventure
Income:
Struggling
Life Style:
Eating Habits:
I eat most things
Smoking:
I Smoke
Drinking:
Yes Please!