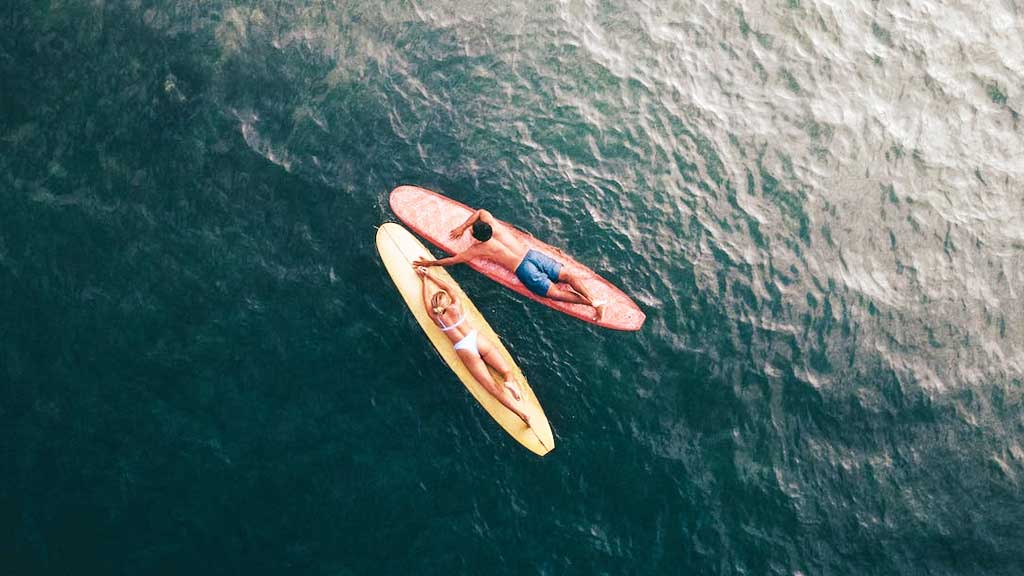 As if dating was not enough of an adventure, at Singles2meet.co.za we are always trying to take it to the next level. No more cosy dinners, it is time to see what that special person is made of! Use our Cape Town adventure dating ideas to add adrenalin and spice into the lives of you and your partner! After all, shared adventures become shared memories, lasting a life time…
---
Abseiling is about trust, trusting the rope as you lean backwards off the edge of a cliff – much like dating. Cape Town has a variety of abseiling options, but we think you will battle to beat abseiling off Table Mountain. This is the world's highest commercial abseiling site – a 1000m adrenalin trip complemented by spectacular, breath-taking views. See both Cape Town and your date in a different light. An adventure dating experience that will leave a lasting memory of an exciting experience shared.
Web site: https://abseilafrica.co.za/portfolio-items/tmabseil/

---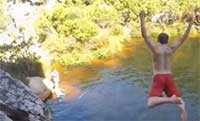 Kloofing is all about pushing yourself and hopefully your partner to the next level. Who knew that 3m could look so high? Enter Kamikaze Canyon aka the Steenbras River Gorge. We recommend going with Cape Town Adrenalin. Kick the day off with breakfast, followed by a day of hiking from rock pool to rock pool. Cliff Jumps range from 3m to 22m high, and a bonus abseil through a 65m waterfall is a brilliant way to end the day. This is followed by a light dinner and sundowners. Guaranteed to be a day neither of you will forget in a hurry.
Web Site: https://www.capetownadrenaline.com/kloofing-2
---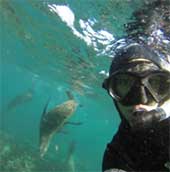 If heights are not your thing, then snorkelling with seals may just be what you are looking for. Head off to Hout Bay, meet at Captain Jack's for a trip to Duiker Island, the home of around 10 000 Cape Fur Seals. No need for any of your own equipment, the trip starts off with a quick training session and you are ready to go. Experience underwater marine life and seals up front and personally. The seals are known for the curiosity and enjoy interreacting with snorkelers. Spending approximately an hour watching the seals in their natural habitat is a surreal experience as you watch them transform into graceful underwater creatures. This adventure dating idea may just take your relationship to the next level if your date loves animals and nature.
Web Site: https://www.capetownbucketlist.co.za/
---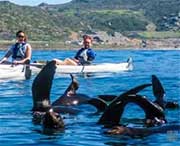 Kayaking is an incredible way to experience the beauty of Cape Town with your date from a different perspective. Your adventure date begins at the Simons Town pier where you start your 2-hour trip on double kayaks which are great for beginners. You will head to Boulders beach, the home of the penguins where you will get to watch these delightful creatures in action. Kayak Cape Town also offers an evening trip where you can watch the full moon from the sea as it rises over the Hottentots Holland mountains.
Web Site: https://kayakcapetown.co.za/pages/penguintrip.html
---
This an adventure dating experience only for the brave and fearless. The great white shark has a formidable reputation, and we happen to think this is one of the ultimate Cape Town adventure dates you can experience.

Book a full day for this adventure as you head out to Gansbaai renowned for its great white and bronze whaler shark populations. The day kicks off with breakfast at the Great White House before heading off to Dyer Island. The crew is made up of experienced researchers and marine biologists who happily pass on their vast knowledge on the 20 min trip before you anchor for approximately 2 hours. Prepare for an unrivalled experience as you watch the sharks in their natural habitat from the safety of a cage securely attached to the dive boat.
Web Site: https://sharkwatchsa.com/en/the-trip/shark-cage-diving/
---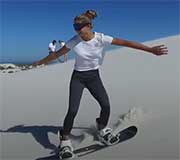 As if Cape Town does not have enough adventure on offer, just a mere 30 minutes away you can find some of the most beautiful white sand dunes around. The fabulous staff will give you a quick training session and even wax your board for you. Prepare yourself for an exhilarating thrill as you swap the snow for sand. There are two options to choose from, their "classic" where you walk up the dunes and sandboard down or their ultimate sandboarding 4 x4 package where you are driven by a customised 4×4 to the top of the dunes. This is definitely the better option as not only do you get more rides in but you will not get tired walking up the dunes each time. And let us be honest, dune bashing in a 4×4 is an experience on its own.
Web Site: https://www.capetownadrenaline.com/sandboarding
---
There is something about horse back riding on a beach and we cannot think of a better spot than along Noordhoek's Long Beach. The hour and a half ride starts off in the wetlands of Kommetjie before you reach 8kms of unspoiled beach. The spectacular views of Chapman's Peak and the ocean will leave you both breathless. Horse Riding Cape Town also offers tailor-made tours, and it does not matter if you are a beginner or experienced rider, it will be an outing to remember.
Web Site: https://horseridingcapetown.com/noordhoek-beach-rides/
---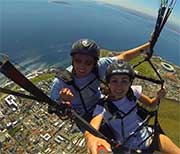 A tandem paraglide is a fabulous way to get a bird's eye view of Cape Town in all its glory. Leaving from Lions Head of Signal Hill dependent on the weather you both will never forget that first moment your feet leave the ground and you feel the wind on your face. As the adrenaline and pure joy flows through your body the entire experience is captured on a Go-pro with the option to buy – definitely a gift that will be treasured.
Web Site: https://www.paraglide.co.za/
---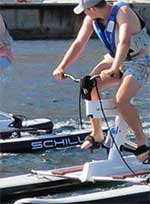 We cannot phrase it any better – as they say, "gliding across the ocean is the most exciting and unique way to experience the ocean around Simon's Town." No experience is needed, and each tour is accompanied by a guide boat ensuring your safety and enjoyment at all times. There are various options from a one or two-hour trip. This is the ideal way for those who do not surf or kayak to truly experience the joy of being on the water.
Web Site: https://capetownwaterbikes.activitar.com/services/6047
---

Captivate your date and take to the skies!
Captivate your date by with a sky based adventure dating experience! We just had to throw this in here – who would not enjoy a helicopter ride around one of the most beautiful cities in the world? There are a variety of options, from the full Peninsula Scenic flight, an hour's flight from Cape Town to the Cape of Good Hope to the City Express or Hopper Flight – you just cannot go wrong. If you want to up the ante, you could combine your helicopter flight with a wine farm visit or even shark cage diving.
Web Site: https://www.helicopterscapetown.co.za/